What's Happening in Myanmar (Burma) & How to Help
🇲🇲
(Last Update - April 4th, 2021)
Follow the #whatshappeninginmyanmar and #justiceformyanmar hashtags on social media platforms.
CONTACT ADMIN
This page is intended to be a resource for people outside of Myanmar who want to take action and spread awareness.
WHAT'S HAPPENING IN MYANMAR?
The Slacktivists
Al Jazeera
POLICE BRUTALITY 2/26 - 3/17 (Source - @fullbellies_forlife on Instagram)
WARNING ⚠️ GRAPHIC IMAGES
Number of Arrests and Deaths as of 3/21 (Source: AAPP)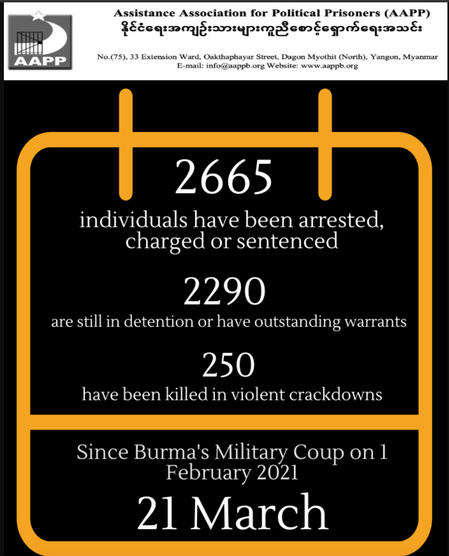 Some of the Lost Souls
DONATE
Donate to local media organizations.
TEMPLATES
US Only
Send automated emails to US Representatives in order to request limited sanctions on military businesses - Text "SIGN PCNCIZ" to 50409

Send automated email to US Congress to boycott Myanmar Military owned companies - Text "SIGN PBUWYX" to 50409

Send automated email to US Congress to Condemn the Coup & Pressure Burma Military to End Attacks in Karen State - Text "SIGN PAKJMG" to 50409
Write to State Senators (US)
"Hello. I am a (insert state) resident. I am calling to demand that Senator (Last Name) OR Senator (Last Name) co-sponsors the newly introduced bipartisan bill called S.Res.35: A resolution condemning the military coup that took place on February 1, 2021, in Burma and the Burmese military's detention of civilian leaders, calling for an immediate and unconditional release of all those detained and for those elected to serve in parliament to resume their duties without impediment, and for other purposes. On February 1, 2021, the Tatmadaw (military) of Myanmar staged a coup, detaining key leaders of the ruling National League for Democracy (NLD) party. This was immediately followed by the Tatmadaw censoring the press, shutting down the Internet, closing banks, cutting off global communication, and announcing a state of emergency. The country of Myanmar is in a humanitarian crisis, requiring immediate humanitarian intervention. In addition to the ethnic conflicts, civil servants across the country have decided to step down from their jobs, refusing to serve under military rule. This growing Civil Disobedience Movement, however, not only hurts civilians in need of service, but also causes great concerns about the future of the COVID-19 pandemic as the military halted its vaccination programs. As it stands, our Burmese brothers and sisters suffer in silence, unlawfully thrust under the rule of a dangerous dictatorship that opposes the will of the people. This is a human rights violation and a destruction to democracy. Please act urgently on this matter. Thank you!"
STAY UP TO DATE
News Outlets in Myanmar
Twitter Accounts
(Journalists & Activists)
Instagram Accounts
(Journalists & Activists)
ETHNIC MINORITIES IN MYANMAR
Chin
Kachin
Karen
Rohingya
Shan